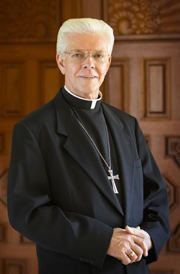 Bishop Edward Paul Raible is our Bishop Emeritus.  He attended minor seminary at Chaminade Preparatory in Marcy, New York. He continued his studies at St. Meinrad's Abbey in Indiana and St. John Vianney Seminary in Stubenville, Ohio. He later earned a Bachelor of Science degree in existential psychology from Duquesne University in Pittsburgh, Pennsylvania.
Having completed his theological studies at St. Francis by the Sea American Catholic Church in Laguna Beach, California, Bishop Raible was ordained to the priesthood by Bishop Simon E. Talarczyk on February 2, 1980. He remained at St. Francis as Rector until he was ordained bishop on April 28, 1988 in Huntington Beach, California. On July 8, 1995, Bishop Raible's episcopacy was confirmed by the Brazilian Catholic Apostolic Church when he was conditionally consecrated by Dom Olinto Ferreira Pinto Filho at Catedral de Sant'Ana e Nossa Senhora Minina in Penha, Rio de Janeiro.
As Ordinary, Bishop Raible commissioned the founding of Good Shepherd Church.  He is also the founder of a community of men and women dedicated to the care of the sick and disadvantaged.