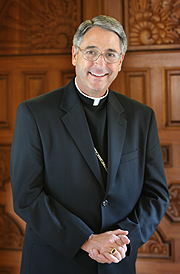 Bishop Delvaux completed twenty years of Catholic education in the Los Angeles area before his ordination to the priesthood by Cardinal Timothy Manning on May 25, 1974. He earned his M.Div. degree at St. John Seminary in Camarillo, California.
Bishop Delvaux served in the Archdiocese of Los Angeles as associate pastor at two Roman Catholic parishes, St. John Fisher Church in Rancho Palos Verdes and St. Patrick Church in North Hollywood. He completed additional graduate courses in counseling at California State University, Long Beach. Before he was appointed pastor of Good Shepherd American Catholic Church, which he founded on February 1, 1993. Bishop Delvaux was associate pastor of St. Matthew Church in Orange, California.
As Ordinary he oversees the clergy and pastoral ministry of Good Shepherd Church. Among his duties as Bishop of the diocese are the recruitment of clergy and the formation of future parishes. He was consecrated Bishop by the Most Reverend E. Paul Raible on October 1, 1995.