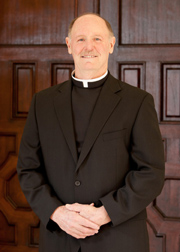 Deacon Gary is a California native, graduating from Cal State Fullerton with a degree in Criminal Justice. He was a serious baseball player and received an invitation to tryouts with the Dodger organization. Military service interrupted his ambition in sports and he served in Vietnam with the Marine Corps.
After his military service he continued serving the local community in the Sheriff's Department and retired as a detective having received two medals for bravery.
Gary and his wife began attending Good Shepherd Church in 2001 because of the family atmosphere within the church and the enthusiasm they felt from the clergy.
Continuing his call to service, Gary was ordained a Permanent Deacon and celebrates many weddings. In addition to Eucharistic and Liturgical participation, preaching on a regular basis, and celebrating weddings, Deacon Gary performs many of the administrative and strategic functions that allow our Wedding Ministry outreach to flourish.