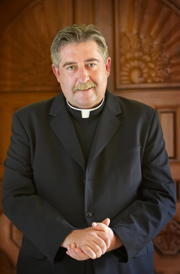 Father Jack was born in Lynwood, California.  He began his preparation for the priesthood by entering the minor seminary of the Congregation of the Mission, the community founded by St. Vincent de Paul. By April of 1980, he had taken vows and been ordained deacon by Bishop Daniel Kucera, Auxiliary Bishop of the Roman Catholic Diocese of Joliett, Illinois.
Feeling called to special ministry as a deacon, Fr. Jack delayed petitioning for ordination to the priesthood. Instead, his community put him through additional training and certification at the Johnson Institute in Minnesota, which prepared him to serve families with members addicted to alcohol and other drugs.
In 1986, Father Jack co-founded the Family Intervention Center and Services (F.I.C.S.). He currently sits on two Los Angeles County Commissions: the Commission on Alcoholism, and the Narcotics and Dangerous Drugs Commission. He also directs the Training Institute for Addiction Counselors (TIAC), and is on the faculty of Cypress College, teaching in the Human Services Department.
His parochial assignments in the Roman Catholic Church included St. Vincent de Paul Church in Los Angeles, and Miraculous Medal Church in Montebello, California. Father Jack joined our pastoral staff in January of 1998 and became director of our ministry to engaged couples. Acknowledging God's call to the priesthood, he was ordained on February 7, 1999 by Bishop E. Paul Raible.  He is bilingual, speaking English and Spanish.